SAK'D
Click Below to Watch the Latest Trailer!


Deep within the Realm of Dreams, lies a mysterious world of fantasy and magic. The idyllic peace and spirit of the realm is shattered as monsters invade, gated in through dark portals by a sinister force of evil. These 'tears' in the fabric of this reality spew forth malicious horrors, creatures that threaten to plunge the lands and lives of those people who live there into a nightmarish reality. The dead begin to rise as monsters, and darkness looms over all. As the people's hope begins to fade, and in a last desperate attempt to save what good remains, they cry out at once for the universe to send them a hero.
SAK'D is a retro-inspired, Saturday morning cartoon-wrapped, action adventure role-playing game about a pillow named Sak, a brave, adventurous, wise-cracking hero… a not-so-ordinary pillow accidentally brought to life, imbued with powerful weapon-wielding, spell-casting, monster-smashing abilities and sent on a quest to save…well, everything.  Together, you will explore dangerous and vast environments, discover timeless secrets, and overcome deadly creatures to find the lost fragments of a special magical amulet and save the Realm of Dreams from becoming a nightmare!
Hand-drawn animation and environments gives SAK'D an original flavor, while hearkening back to the gameplay feel of some of our favourite 16-bit and arcade game classics. Crisp art style, super-fun game mechanics and lots of places to explore everywhere, both above and below ground.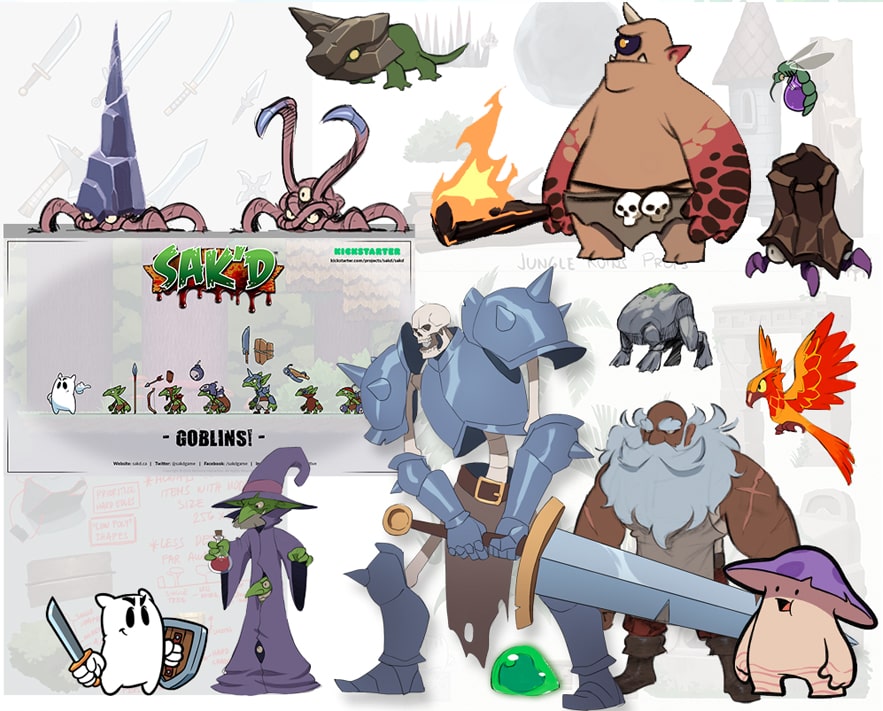 Meet Sak!
Sak is a pillow accidentally brought to life (see the story of SAK'D: The Rise of Maniakal). Weary and confused, Sak falls asleep in a hollow in the base of a large oak tree, taking shelter from the falling rain. During an intensely restful slumber, Sak's consciousness is pulled into the Realm of Dreams where our pillowy hero comes face-to-face with desperate people amid a world in peril, and their plea for help. Sak must face the dangers that lie ahead to recover the shattered pieces of a powerful elemental amulet and restore the Realm of Dreams.
Sak packs some attitude and ability when it comes to monster-smashin'. A pillow with power and prowess, particularly in the department of weapon use and spell-casting, Sak will discover new armour and weapons, powerful artifacts and unlock devastating (and very useful) magical abilities.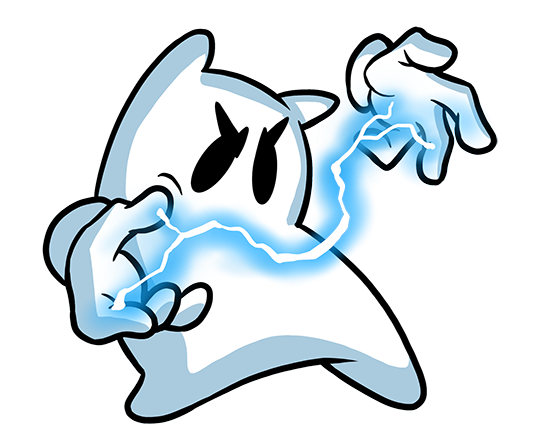 Magic & Mayhem!
Sak will quickly gains the use of weapons and the ability to wield a variety of elemental spells which can be used to fight monsters and solve problems in each challenging level. Some of the awesome magic you'll use includes the following spells:
Fireball: Useful for lots of things, like torching baddies and lighting torches!
Water: Extinguishes flames, solidifies lava, and damages certain creatures!
Air Shield: Repels monsters, creates lift and deflects certain projectiles!
Lighting Bolt: Shock your enemies and activate switches!

The Realm of Dreams has been invaded by monsters who threaten to tear the very fabric of reality apart, plunging the dream world into an eternal nightmare. Sak must unlock the secrets of the castle at the center of the world, and gain entrance to lands beyond where dangers, rewards and clues wait to be discovered.
15 Levels of Danger & Excitement!
Search through blistering deserts, dense jungles and haunted forests full of hidden treasures, or climb treacherous cliffs and precarious peaks, even dive to the bottom of a massive and mysterious lake or delve deep into caverns crawling with monsters, and all of it with certain death lurking around every corner. There are secrets and dangers both above and below ground, with plenty of hidden locations throughout each level for Sak to find and explore.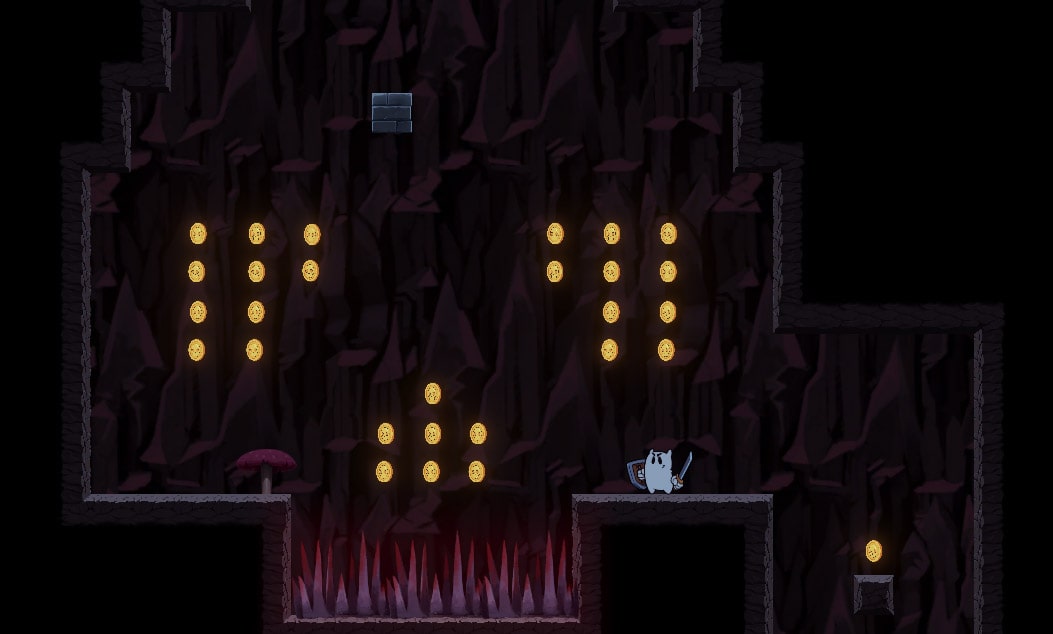 There are a number of challenging puzzles for Sak to solve and traps to evade or escape, and ways to interact with the environment using attacks or magic spells that will reveal secrets, answers or even uncover new and interesting ways to progress through each level.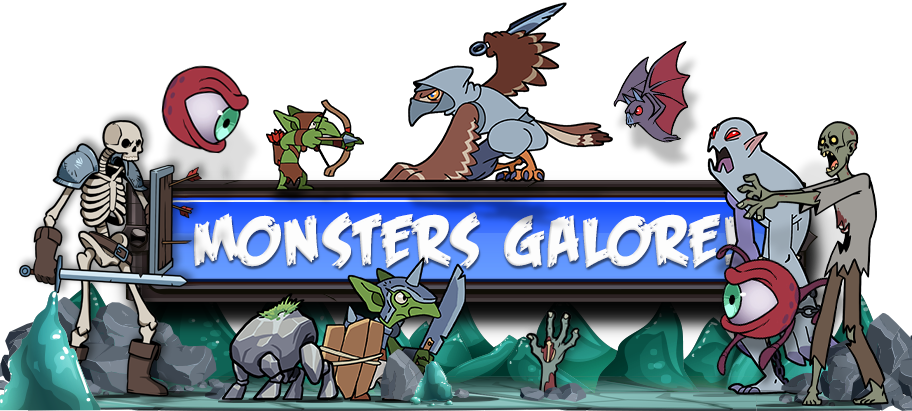 We love fantasy and horror stuff, and grew up on games like Dungeons & Dragons, so we're using every opportunity to flex our creative muscles in the monster-making department. We have planned 140+ creatures for Sak to face on this fantastic journey, and you can be sure we'll add more if we can!
There are crafty goblins, shifty slimes, droves of undead, ninja-eagles, vicious toothy worms, droves of undead and a host of other fearsome baddies, each with special attacks and defenses that will often take more cunning than a swing of the sword to overcome. There are also 15 bloodthirsty and very challenging 'boss' monsters to overcome to uncover the artifacts and weapons necessary to progress through the game and save the Realm of Dreams from being overrun by nightmares.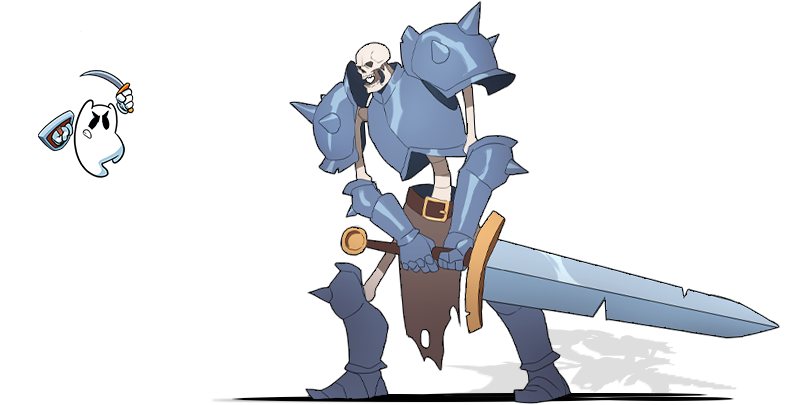 We really wanted to capture all the fun and flavor of favourite classic 8- and 16-bit favourite role-playing action-adventure games, but offer players a more diverse style of fighting skills than the typical 'jump n' slash'. We're applying that same approach with monsters too, and giving Sak's enemies more to do than simply standing in place or pacing and waiting to be killed.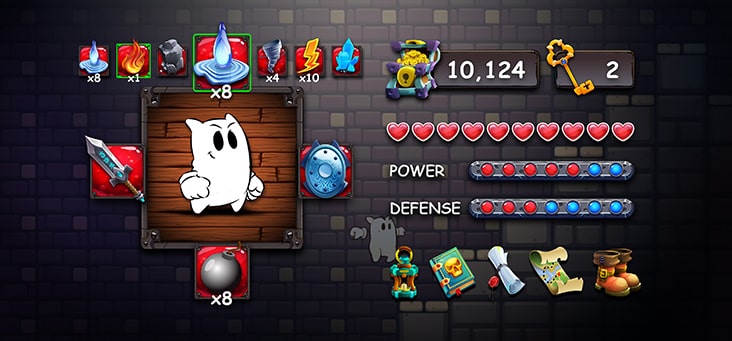 RPG-Style Character Progression
Sak begins as a simple and slightly confused pillow with a take-no-crap attitude, a mission to save a kingdom and a mind to slay monsters. Throughout the adventure, Sak must learn and discover useful and powerful abilities, find extra health and armour for defense, as well as earn deadlier weaponry and elemental magic that can be found by destroying certain bosses or special enemies. It is a straight-up classic platformer, but we're packing it full of all kinds of role-playing fun, too.
Sak will also uncover important unique artifacts that unlock special abilities or features to help progress through the game, such as the magic lantern; used to light your way through dark and otherwise impassable areas, or bombs to uncover hidden areas.

Target Platforms (Initial Release): Steam (Windows PC), Playstation, XBox, Nintendo Switch **

Genre: Action-Adventure 

Modes: Single player 

Languages: English, Spanish, Russian, German, French, Cree, Polish, Japanese
** We are a small indie-team with limited resources but we have plans to launch for Steam (Linux), Google Stadia, and Mobile (Android/iOS) as quickly as possible.

Classic Platformer Feel

Role-Playing Adventure

Engaging Combat

Eye-Popping Magical Spells

Gorgeous Art

Awesome Environments

Inclusivity Options

Tons of Fun!
We are targeting a first-run playtime of around 10 hours for the Main Story, or with the Main + Extras 12 hours, or for completionists and collectors a stellar 15+ hours of coin-collecting, treasure seeking, monster-slaying fun.
Your Feedback Will Help
Make SAK'D Better!
The game is currently in Pre-Alpha and being developed for PC & Mac and will be released on Steam as an Early Access Game. (Wishlist Today!) Early Access will allow us to get it into player hands, get their feedback and have the time to use that feedback to shape the game. We believe in engaging with our community to make our game as entirely awesome as possible.
Join our Discord Server and
Engage with the Community.

We are making Beta Access available as reward tiers. If you want to get your hands on the game as early as possible, back at those levels! Beta members will have access to special discord servers that we will be reaching out to for feedback. Beta backers will also be to able to vote on certain game decisions and help steer the development of the game.


Music is one of the most important parts of bringing Sak's world to life! It has to be fun, fantasy, mystery and danger all rolled into one, an emotional roller-coaster of epic moments and magical mayhem. The music and sound together will need to be truly amazing to really plunge our imaginations into every moment and monster that makes up Sak's world and the Realm of Dreams. SAK'D music composer and sound engineer Brandon Vix is creating a symphony of of landscapes, a veritible  auditory odyssey with which to teleport our minds and pull our hearts into the action and adventure.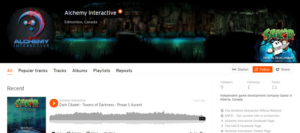 UPDATED! With the momentum created using our first Kickstarter, we managed to connect with a private investor who generously invested in our team,  covering a large portion of our original budget. We are now are asking for your help to generate the remaining $28,620 (CAD) we need to finish making SAK'D to it's intended level of quality, complete with gorgeous hand-drawn artwork and a brilliant original soundtrack, and of course to fulfill all rewards. All of that without over-extending the development timeline by anything ridiculous. We'd also love to hit some stretch goals if possible!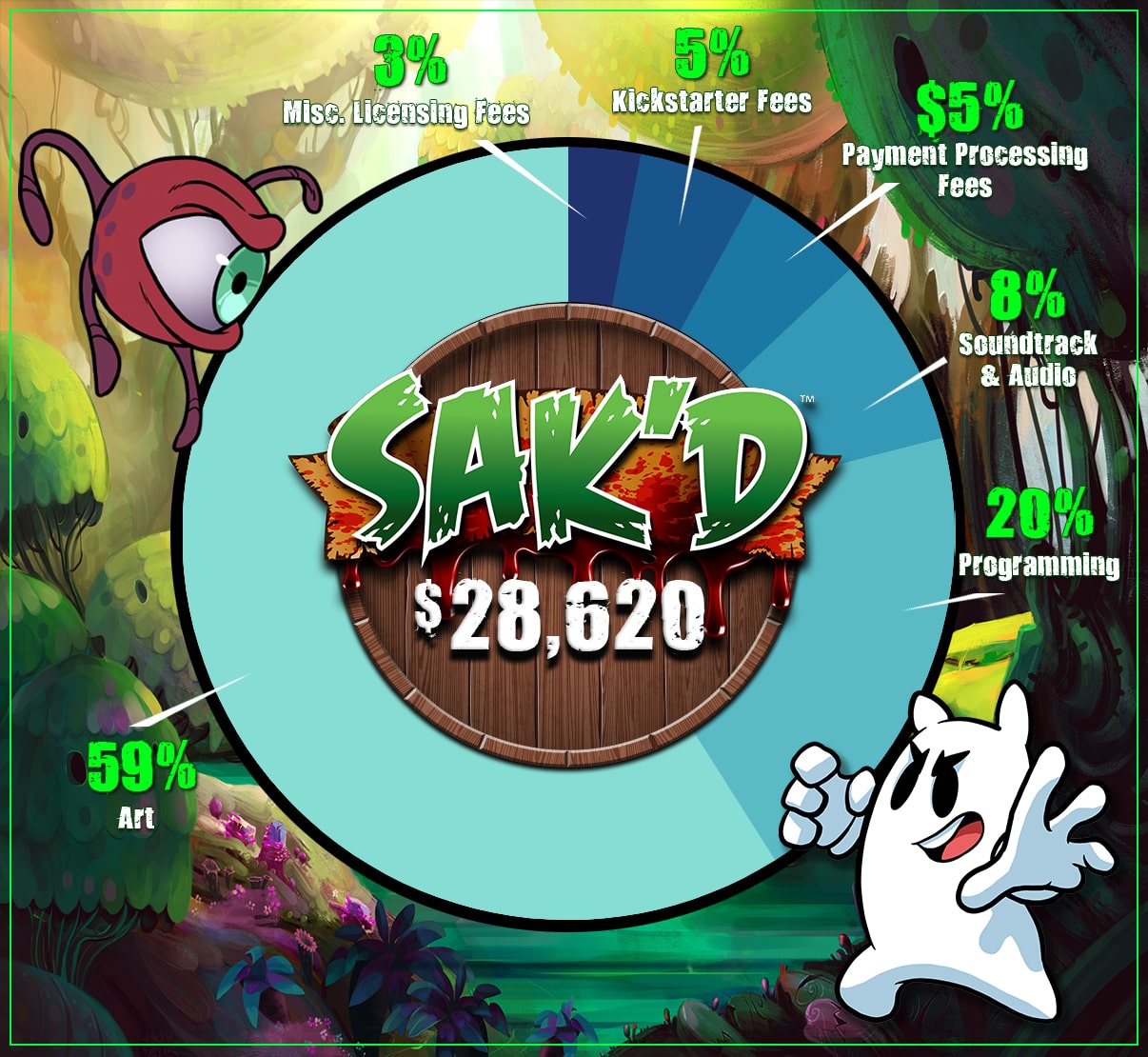 Our team still has to work our regular jobs and take extra contracts to keep up with life during the process of working on SAK'D, so we're maintaining realistic expectations about the development timeline. Achieving our Kickstarter goal will give us more time to work on game development.
Any additional funds we are able to raise for this project will go right back into making this game even better, with extended levels, more dynamic and entertaining environments, more treasures to find, more spells to cast, weapons to wield and more challenging monsters to slay!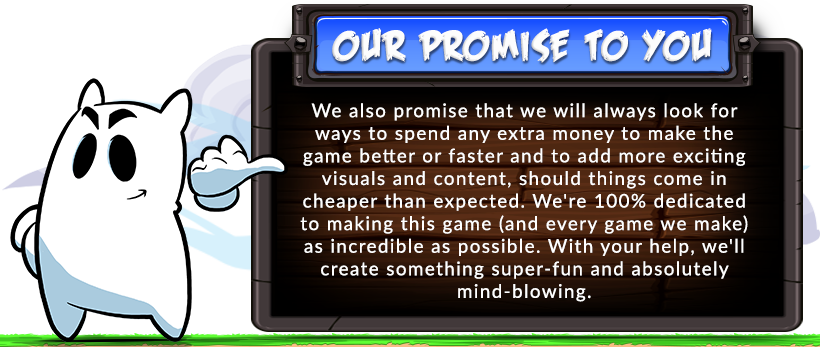 The budget we've presented is the remaining amount of funds necessary to help complete our full vision for the core game, but we do have several ideas for stretch goals if we are able to hit our initial funding target.  We'd love to take SAK'D to the 'next level', and if all goes well, we'll be releasing the game in October. But if things go really well, the release will take place a month or two later, with lots of extra content! You won't have to wait that long to try out the game, though – we'll be providing backers with playable demo levels in August and an early beta-release version for backers as soon as it's ready.
We have two primary aims in mind for SAK'D stretch goals:
Make the game into a longer and more visually-rich, immersive and entertaining gameplay experience and much more desirable product.
To make #1 happen without greatly extending the development schedule of the core game.
As such, most gameplay-oriented additions are currently being considered as content for a post-release expansion (all of which will be FREE DLC). We do have several additional beautiful and challenging levels sketched out that we would love to add to the world and the story. More monsters? Well, heck yeah we'd love to increase the creature diversity of SAK'D and add some more beasties. Tons of more weapons? Oh, for sure! We'll happily pour our hearts, souls, time and any other resources we can into improving every facet of the finished game should we achieve funding beyond our target.
Some of Our Intended Stretch Goals Include:
More Exploration! Adding more sub-levels and secret areas.
More Weapons! We have some really outstanding ideas on the back-burner for several more awesome and deadly weapons for Sak to discover. Each weapon takes alot of additional animation so we'll need some help to achieve this.
More Magic! We want to include a 'magic charge-up' whereby Sak can charge his already formidable arcane powers, super-sizing and amplifying their effects with incredible visual and practical effect.
Free DLC Level Expansions; We'd love to extend Sak's world! Visit the dizzying peaks of the 'Cloud Forest' or investigate the enigmatic 'Mountain Fortress'.
We'll release details and a complete list of stretch goals when we get closer to reaching our initial funding target.

So you want to pledge?! Awesome!
To show our thanks, we have put together some really cool rewards for backers, including having your name attached to a mausoleum plaque or graveyard tombstone, or even having our artists craft a custom statue or large monument dedicated to you and featured in a prominent place in the game.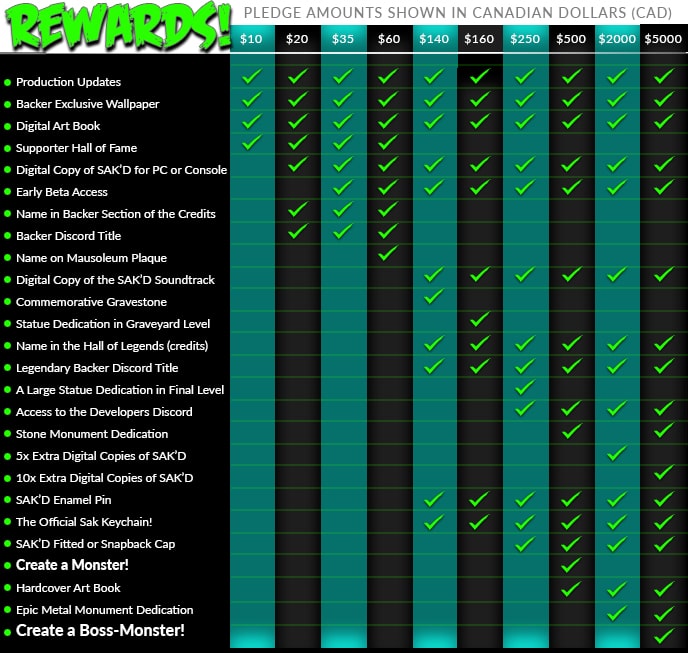 Production Updates
Behind-the-scenes information and media with updates on the game production and team.
Backer Exclusive Wallpaper
An original set of SAK'D digital wallpaper for smartphone, tablet and computer desktop.
Digital Art Book
We're packing the best of the beautiful concept environment and character artwork into a detailed digital PDF booklet containing some little-known background on the characters, the team and the game development, as well as gorgeous full-colour maps of each level.
Your Name in the 'Supporter Hall of Fame'
We'll add your name (or first name and initial, as you prefer) to an established a 'Supporter Hall of Fame' on the Official SAK'D Website
Digital Copy of SAK'D
Own the game! You will receive a special download code for your very own digital copy of SAK'D for PC or console upon release.
Early Beta Access
Get access to the beta build as soon as it's ready! This will also help our team ensure that we have a solid, well-tested product for launch. QA is important to us! In-addition to early access for backers, we will be launching a playable beta on Steam as soon as possible to gather more feedback from players.
Name in Backer Section of the Credits
If you think having your name displayed on the website is awesome, then seeing your name in the BACKER section of the game's end-credits is really going to blow your mind!
Backer Discord Title
You'll receive the exclusive SAK'D 'BACKER' title in Discord, so everyone can see you for the amazing and supportive person you are.
Name on a Mausoleum Plaque
The mausoleum is a spooky and dangerous place, rife with monsters. We will put your name on one of the commemorative plaques in the mausoleum where Sak can stop by and note your contribution to building this awesome world.
Digital Copy of the Soundtrack
We're putting together a beautiful and awe-inspiring musical score for the game. We will send backers with this reward a code to download a very special SAK'D Digital Soundtrack once it's complete, and prior to game launch so you can build that excitement and adrenaline or feel haunted and spooky wherever you go.

Commemorative Gravestone
We'll etch your name in digital stone, forever marking your contribution and placing your marker among the notably deceased and possibly undead residents of 'The Graveyard' level in SAK'D.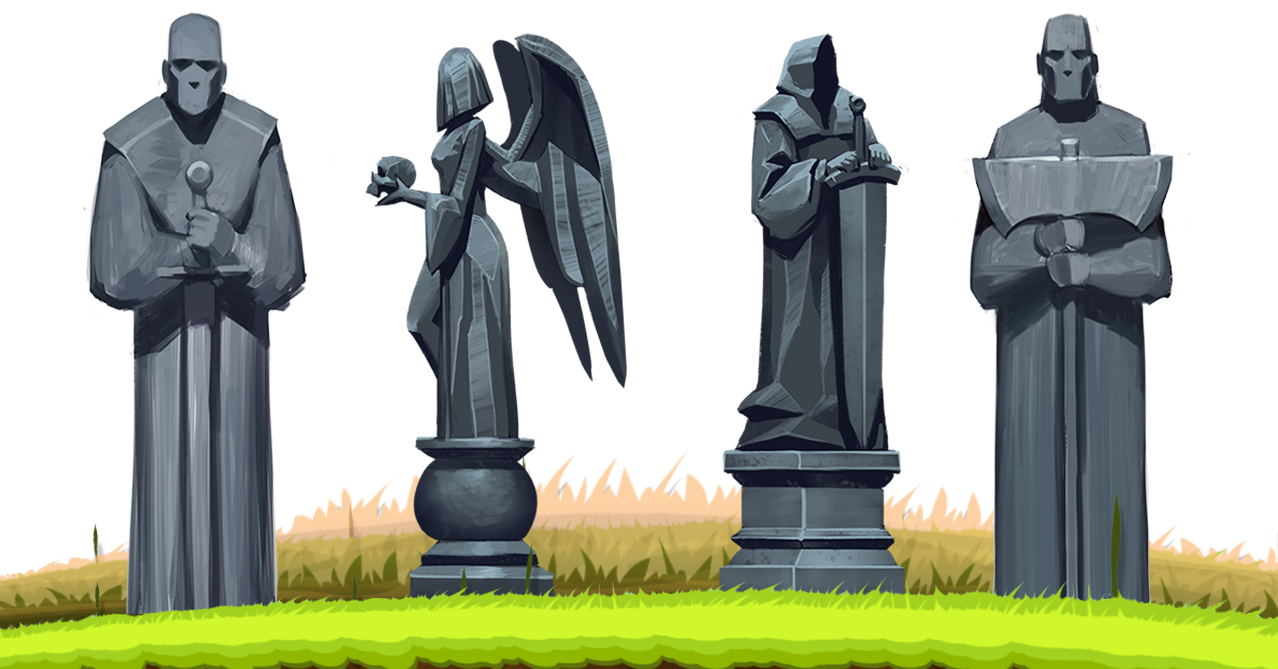 Statue Dedication in Graveyard Level
Taking the gravestone to the next level with our artists designing a custom statue with your name on it, and featured in a notable location within 'The Graveyard' level of the game.

SAK'D Enamel Pin
Sharp colour and quality manufacture, just like the game! These gorgeous little pins will catch eyes and win hearts, while serving as a high-quality and very sturdy reminder of your awesome contribution to making this game happen!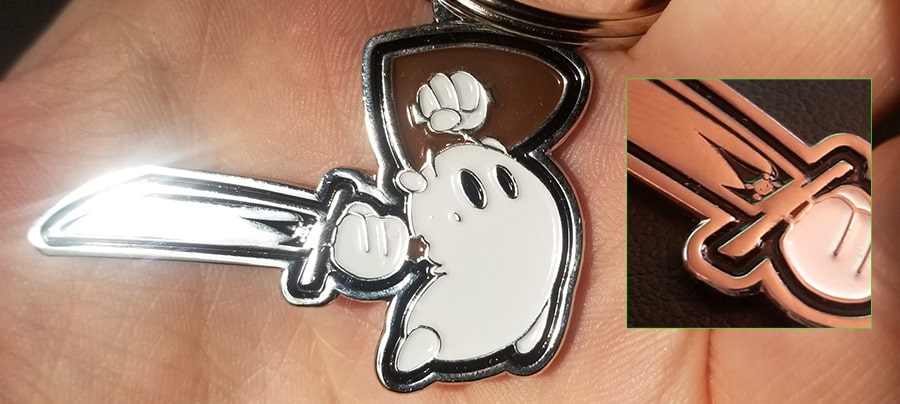 Limited Edition SAK'D Enamel Keychain
It's our pillowy hero immortalized in metal and guarding your keys! Sling your stuff on to this supa-sweet piece of SAK'D memorabilia. Detailed enough to show Sak's trademark skull n' bones sword marker and built to last.
Your Name in the Hall of Legends (End Game Credits)
Like the backer section of the credits, we will feature your name at the end of the game, but at this pledge level we are doing it with extra FLARE! In a beautifully designed and decorated section of the end credits we will pay some brightly-lit and notably larger homage to your incredible contribution to making SAK'D the best it can be.
Legendary Backer Discord Title
In-addition to having your name forever emblazoned in the 'Hall of Legends', you will also receive a very special LEGENDARY BACKER Discord title. Like a digital badge of honour, everyone will be able to note your generous and pivotal contribution to the development of one of the greatest platformer games ever!
A Statue Dedication in Final Level
The beautifully-carved stone statues get way larger and more deadly-looking at this pledge level. Our artists will put their twisted, creative magic into crafting a large statue dedicated to you for placement somewhere visible and prominent in 'The Fiend's Castle', the adrenaline injecting, death-defying and ultra-challenging final level of the game. You can even contribute your own ideas and we'll transform them into the perfect SAK'D style tribute!
Access to the Developers Discord
With this awesome reward you will unlock the doors to the SAK'D Developers Discord server, where you will be welcomed with open arms. Participate in game-development, offer your thoughts, and join SAK'D relevant discussion or lurk as you please as we present a parade of behind-the-scenes discussion and media meant to be seen exclusively by the development team, and you!
Create a Monster!
Work closely with our artists and developers to craft a unique and challenging monster to be featured in last level of SAK'D.
Large Monument Dedication
In the final level of SAK'D- 'The Fiend's Castle' – There is a very important and grandiose room where intricately carved monster statues stand watch over the Fiend's domain. We will mark the statue's dedication plaque with your name, proudly proclaiming you as the fabled slayer of that very monster.
10 Extra Copies of SAK'D
In addition to having a copy of SAK'D for yourself, you will also receive a batch of special family and friends download codes for the game that you can share with others. Delight your kin, win over that gamer you've been pining for with a gift, or use a couple extra copies to quell rebellions between rival factions of people who just need to chill and play a great game. It's really up to you how you share them, because at this pledge level you have the power!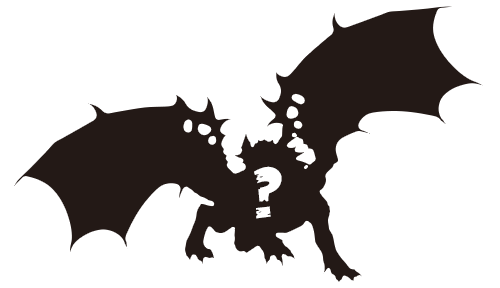 Create a Boss-Monster!
How cool is this!? The mighty contributor who pledges at this level will not only receive most of the tier rewards in other levels but will also gain a very exclusive 'Bonus Level Boss Creator' title in the game credits right alongside our development team. You will work closely with our artists and developers to craft the perfect challenging monster boss to be featured at the end of the second bonus level in SAK'D. Sak will have to defeat this custom-crafted creature in order to attain a very special weapon which may just turn the tide of battle in the player's favour!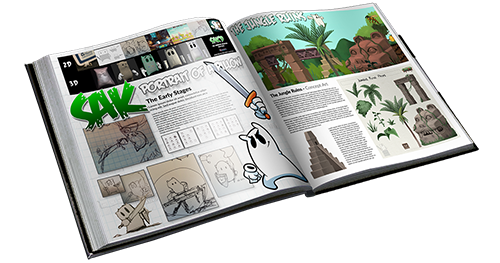 Hardcover Art Book
We're printing a limited & numbered print run of the digital art book in glorious hardcover. This priceless full-colour tome of SAK'D lore will contain concept and finished art, back story on the character and the development of Sak's world, level maps (showing all items and hidden areas!). Each book will also have a special personal dedication to each backer for their contribution, and will be signed by the development team!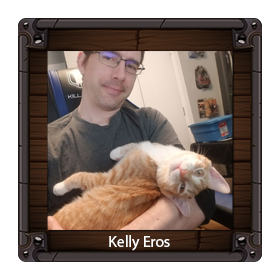 Kelly Eros – Game Design / Creative Lead
Kelly lives in Alberta, Canada and is the company founder as well as a game developer, programmer, artist, graphic designer, website developer, and pet aficianado.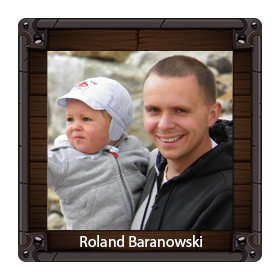 Roland Baranowski – Lead Development
Enterprise Architect, Project Manager, and Application Developer with 18+ years of experience in design and development of business web applications and distributed systems. Having completed the Master of Science with Specialization in Computer Science: Software Engineering Science degree at the Warsaw University of Technology, Roland has a solid technical foundation from one of the European top universities. When not spending the off-hours with family, he's heavily invested in making SAK'D a fun and exciting experience built on solid programming and architecture.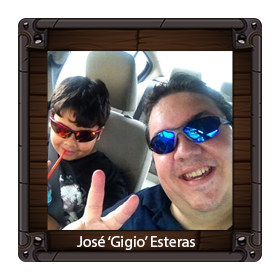 José 'Gigio' Esteras – Architectural Director
With experience in the advertising industry, a degree in Clinical Psychology and studies in Architecture and Art History, Jose brings a weird mix to the table! He's been designed and created maps, as well as flat terrain, for Mōdiphiüs's most exciting product lines, such as: AirFix Battles, Corvus Belli's INFINITY, CONAN: Adventures in an Age Undreamed Of, STAR TREK Adventures, Achtung! Cthulhu & John Carter From Mars!!! Now he is lending his craft to help create some of the gorgeous level and map designs for SAK'D (our flagship title) and SAK'D: The Rise of Maniakal.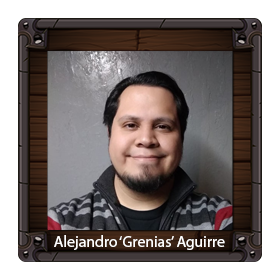 Alejandro 'Grenias' Aguirre Cervantes – Art Director / Animator
A game artist who has worked on indie titles for PC, Ps4 and switch, titles include: Militant, and Tyr: Chains of Valhalla. Also an experienced mobile games Art director and Animation director, who worked in Ennui studios and Onem studio. He is currently a professor at XP Facultad de videojuegos, a university with a focus on game development. He has a passion for learning, creating new things, and enjoys all facets of game development.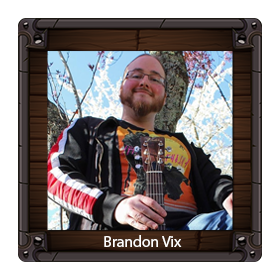 Brandon Vix – Music Composer, Sound Engineer
A self-taught musician since the age of ten, Brandon Vix picked up anything that made a sound and began writing music straight away. Brandon went to the Art Institute of Vancouver (now Lasalle College) and focused on composition for video games and visual media. Graduating with a best in show for his work on more than seven games during his studies, he's excited to give SAK'D everything he's got and more.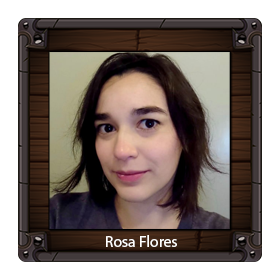 Rosa Flores – Senior Concept / Environment Artist
Rosa is a classically trained artist who gained her bachelor's degree in visual arts and media from Cedim. Her thirst for artistic knowledge led her to continue her education, enrolling in the Academy of Art university for her master's degree in visual development. She enjoys Mythology from all corners of the world, it's influences clearly bleeding into her artistic flair.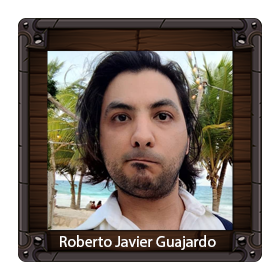 Roberto Javier Guajardo – Unity Development
Roberto is a software engineer and video game programmer with extensive experience working with Unity 3D and C#. Having worked for companies like Softtek, Infosys, Epicor, Inflection Point, and others, Roberto brings a literal ton of energy and talent to the development of SAK'D.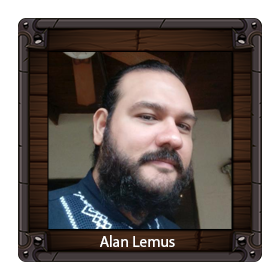 Alan 'Lemuzario' Aparicio – Animation
Description for Alan is coming soon!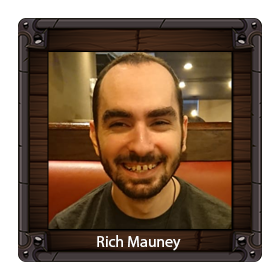 Rich Mauney – Artist
Rich attended the Academy of Art University for Game Design with a focus on concept. He also has been the student of Mentor Adam Duff for visual storytelling and digital painting. He enjoys the creation of assets for both video games and tabletop role-playing games.

Why Kickstarter?
As our passion project, SAK'D is being developed solely by our small but very dedicated team for the past fourteen months. We've continued investing our own money and time into the development as best we can, but with the onset of the pandemic, it's been difficult.  SAK'D doesn't have a publisher, so our little studio continues to take on contract work, seek outside investment and try to apply for grants to keep the ball rolling and the bills paid.
We want to polish this game as much as possible, super-charge the fun, and include important things like accessibility features and additional language translations so more people can enjoy playing it.  Additionally, Kickstarter gives us a little buffer we can use to take more time off from our regular jobs and invest more time into the development of the game. We want to make SAK'D as awesome as it can possibly be, and we need your help to make it happen!
I Love This Project! How Can I Help?
We're overjoyed that you love our project, and we'd love your assistance in knocking this campaign out of the park. Since we do everything ourselves, we can use all the help we can get to spread the love! The more money we collect in this Kickstarter, the more time each day we can spend on developing SAK'D and adding cool new features, and the quicker our game will be finished with the intended result. Everybody wins!